Hello EBAN Members! Welcome to the EBAN Affiliate Member Benefits page where you can find a full list of your benefits and advice on how to best use them! Take a look at all the upcoming angel investing events for which you can get free or discounted tickets, the offers you can use for dealroom.co, AWS, EBAN TV, etc. and many more. Everything is waiting for you to discover it!
Events:
Gender Bias in Angel Investing Webinar – On September 12th at 15:00 CEST
Join us on September 12th at 15:00 CEST for the free "Gender Bias in Angel Investing" webinar, held as a pre-event for the European Angel Investment Summit 2023.
Delve into the pressing issue of gender bias and discover specific tools and actions for investors to promote inclusivity and diversity. In this session we will focus on the "how" to overcome the gender bias in angel investing rather than the "why" that was explored in our previous two webinars on the subject of gender diversity:
Don't miss this opportunity to enhance your investing practices and contribute to a more equitable investment landscape.
This webinar is organised by the EBAN Gender Community in the framework of the EBAN Manifesto for a Gender Balanced Angel Investing Ecosystem!
AngelFest 2023 on 20 September in Budapest, Akvárium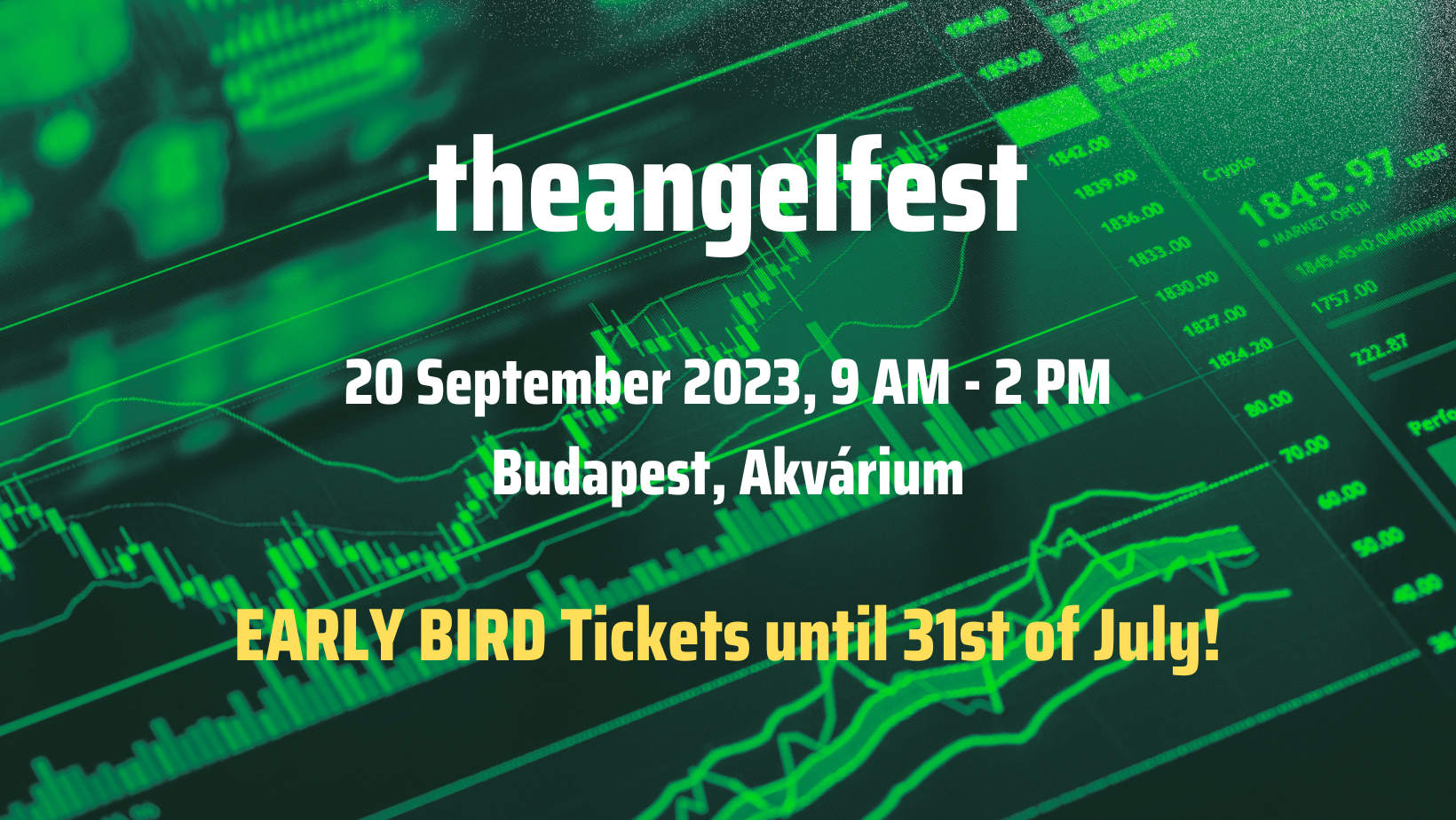 We're thrilled to announce AngelFest 2023, the premier event for startups and angel investors in Hungary, organized by HunBAN.  AngelFest 2023 will be held on Wednesday, 20 September 2023, from 9.00 AM to 12.30 PM at Akvárium, Budapest.
The event will feature seven roundtable discussions on a variety of topics, including:
 DeepTech: the key to success in CEE?
 Big Exits. Big Lessons.
 Equal Opportunities. Female, Minority Founders
 Foreign Angel Organizations Cooperation
 Startup Hungary session
 HunBAN Alumni Founders – What did HunBAN investments give you?
 Is It Worth Outsourcing Software Development or Not?
This year they will have a separate room for pitching startups throughout the event, so be prepared to know more about some of the hottest stories.
But that's not all. AngelFest 2023 will be followed by ScaleUp Fest, an event focused on more advanced startups and scaleups. This is a fantastic opportunity to learn about the latest trends and challenges in the startup ecosystem and to network with industry leaders.
Secure your spot today and be part of the vibrant startup ecosystem in Hungary.
xxx
Emerge in Istanbul on 2-3 October
Join EMERGE, top tech conference in the New East. Connect with global tech industry players: startups, global investors and great tech talents!
📌 2-3 October, Istanbul
STARTUPS can meet investors and potential business partners, join online mentoring sessions, showcase their product at STARTUP ALLEY, participate in 1-on-1 pitch reviews and pitching sessions. INVESTORS can become judges in startup pitching sessions, schedule 1-on-1 meetings with startups, get the full startups & investors database, meet investors and potential business partners. Want to join EMERGE? Use EBAN20 promo code for a 20% discount on any ticket type.
xxx
European Angel Invesment Summit on 10-11 October in Brussels –Europe's leading Angel Investing event!
The European Angel Investment Summit is the annual conference where early-stage investors, entrepreneurs and change-makers gather to fuel Europe's growth. EAIS will allow participants a glimpse into the future, a chance to influence the course of tomorrow and a unique opportunity to connect meaningfully with other international colleagues that enable innovations to come to life.
This event is a must-attend for business angels and any other early-stage investment actor, a supporter of entrepreneurship or innovation at large. Our audience is typically comprised of 50% business angels, 20% VCs, CVCs and PEs; 10% start-up entrepreneurs; 10% policymakers; 10% other start-up ecosystem stakeholders.
During the 2023 edition, several themes will be explored, including:
Fueling Europe's Growth with Ecosystem Collaboration and More Gender Inclusion: Explore driving inclusion and diversity within angel and startup communities, forging partnerships between public-private entities, corporates, and open innovation initiatives.
Discovering Angel Investment across the World and Building Bridges within Europe and Beyond: Uncover the potential of cross-border angel investing between EU countries, fostering collaboration between Africa and Europe, and bridging investment gaps worldwide.
Latest EU Regulations and Instruments for Angel Investors and Angel-Backed Startups: Stay updated on new AI, IP, and ESG regulations, discover programs enabling co-investment with angels and angel-led funds, and explore the evolving landscape for angel investors and startups.
Exploring Industry Trends and Sectors to Invest in this Year: Delve into impact investing, DeepTech and science-driven startups, SpaceTech advancements, and other emerging sectors ripe for investment opportunities.
GITEX & NorthStar 2022 on 15-20 October 2023 in Dubai, UAE
Experience Innovation at GITEX Global 2023 & NorthStar 2022
Join EBAN at one of the world's largest tech events, GITEX Global 2023, in Dubai from October 16th to 20th and NorthStar from October 15th to 18th. Discover cutting-edge AI advancements, explore new co-located shows like GITEX IMPACT & Future Urbanism, and connect with tech communities worldwide.
EBAN Members Join GITEX for Free and NorthStar with 25% off
EBAN members can join us for free or with a huge discount at this remarkable event. Contact us at info@eban.org to secure your complimentary or discounted pass. This is a time-sensitive offer and we urge you to act fast.
Don't miss out on the opportunity to be part of this innovation hub. More Information: https://www.gitex.com/
Engaged Investments Conference on October 24 – 25, 2023 in Prague
EBAN is thrilled to invite you to the Engaged Investments Conference, the premier event that brings together investors from the Central and Eastern European (CEE) venture capital ecosystem. This event connects business angels, LPs, and VCs from across the region, fostering knowledge-sharing, networking, and deal-making opportunities. 🤝💡💼
Be part of a dynamic community that is shaping the future of Central and Eastern Europe's investment landscape. Register now and secure your spot at the Engaged Investments Conference!
30% Discount for EBAN members – EBANPARTNER30

3+1 FREE 
Use your network, bring 3 investors and get 1 ticket for free. Simply write the names of those investors to organizers for DEPO Ventures jan.krahulik@depoventures.com. Once they buy tickets, we put you on the guest list.
invest.austria conference on 7 November 2023 in Apothekertrakt Schönbrunn, Vienna
invest.austria conference
invest.austria conference is the leading event to connect Angel Investors, Venture Capital and Private Equity, covering the entire funding lifecycle of innovative companies. On 7 November 2023, invest.austria conference will take place for the third time. The day will be packed with insightful panel discussions, inspiring keynotes & exciting fireside chats.
This year, invest.austria conference will take place at Apothekertrakt Schönbrunn in Vienna. Over 400 investors, ecosystem representatives and industry experts will meet at Apothekertrakt Schönbrunn Vienna to gain new insights, exchange their knowledge and make new connections. Parts of the agenda will also be streamed online.
Secure your place and get access to:
Exciting panel talks & inspiring fireside chats

Interactive workshops

Food & refreshments

Networking opportunities

Unforgettable after-show party
Get 30% off the regular ticket price here
The event is organised by @invest.austria – the leading network for investors in the Austrian pre-IPO capital market and one of the most important cornerstones of the domestic financing ecosystem.
Research and Education:
The SUPERNOVAS Business Angels Training Programmes
We are thrilled to announce an initiative that's set to shake up the world of angel investing: the free SUPERNOVAS Business Angels Training Programme, developed by the EIT Community with the support of EBAN. Our joint mission is crystal clear: to foster gender diversity in the angel investing world and create a more inclusive ecosystem that empowers women investors like you. Sign up: https://www.surveymonkey.com/r/2BFJCYF
Impact Investing Essentials Boot Camp | 21-22 Sep, Brussels, Belgium
📣Are you seeking an exceptional opportunity to learn the essentials of impact investing while meeting and sharing experiences with like-minded individuals?
Mark your calendars for an immersive experience at @Efiko Academy's 2-day boot camp, taking place in the vibrant Brussels on September 21 – 22. Prepare to delve into the very essence of impact investing, mastering everything from deal sourcing and creative structuring to impact measurement, and gain a remarkable advantage in your career.
What's the catch?
✅Being mentored by a stellar lineup of renowned impact investing experts
✅Forging invaluable connections with esteemed impact investors around Europe
✅Sharing experiences, thoughts, questions and great food!
Don't miss out on this opportunity to break into this fast growing space! Secure your spot now before June 29 to benefit from the special early bird tickets (only 10 remainings).
The Impact investment structuring course | October 17th
Eager to find out how you can creatively structure impact investments and establish catalytic partnerships to support and scale early-stage impact ventures❓
Join the upcoming interactive and practical course opportunity delivered by @FASE and @Efiko Academy on Structuring Hybrid Impact Investments.
🎯 Here's what you will be able to do after taking the course:
Explain the missing middle challenge and the need for diverse sources of impact capital
Tailor financial instruments to the characteristics and maturity of a venture
Discover the applications and power of Social Impact Incentives and Revenue-based loans
Discover how to establish catalytic investor partnerships to scale ventures
The course is designed based on bite-sized online lessons combined with interactive sessions where you put theory into practice and interact with Markus and like-minded peers.
🔊The course starts on October 17 (deadline for applications: October 3)
Discover more about this opportunity and secure your seat via the link below.
EBAN TV

Access educational content through EBAN TV. EBAN TV is a platform where you can watch videos on angel investing, best practices, our past webinars and conferences for free.
Register Here for EBAN TV – use the code EBANTV2021 for your free EBAN member subscription.
EBAN Knowledge Center: access investor tools, guidebooks, industry reports, templates and more Here.
Every month get exclusive access to our EBAN Data Monthly Report. These reports are intended to give our members the latest insights, support them in making informed investment decisions and stay ahead of the curve.
List of BANs and Angel Federations in Europe
3 Charts to Gauge Today's Early Stage Investment Market Across Europe
The Top 10 European Business Angel Networks in 2021
SpaceTech Across Europe: An overview of investment activity between 2017 and 2021
Super Angels and Growth Rounds – Deals from 2021
The Gender Effect
Latest Trend in Angel Investing: FinTech Sector on the Rise
Join the "Ask an Angel" programme. Ask an Angel" is a mentoring programme through which you can use your years of experience to guide startups in their first steps. Click here to become a mentor!
Discounts and Offers:
We have partnered with bunch to enable you to digitally set up your own investment vehicles, pool capital with investors from your network, and automate the administration and management of your investments. As a member of the European Business Angels Network, bunch offers you 5% annually on your Club Deals via the code: "EBAN5". Feel free to enter the code directly in the form or during onboarding. Feel free to contact hi@bunch.capital with any questions about the benefit or bunch."
LEVA, an EBAN member, is an award-winning platform to set up and manage your deal-by-deal investment opportunities. Their technology allows you to raise capital from your network, pool co-investors, and execute deals in a few clicks. To celebrate our new partnership, LEVA is offering our community something really special: EBAN members who join LEVA can structure their deals FOR FREE for an entire year! The offer can be redeemed only until March 31st 2023 by going here.
We have partnered with Loot to offer all of our members exclusive deals and discounts on 700+ SaaS tools to help you and your portfolio companies save money! Sign-up for Loot by going here and get discounts up to 100% off on InterCom, Canva, Hubspot, Typeform, Zoom, Dropbox, Mailchimp, Notion, PitchGround, and many more! Loot also builds custom perk experiences for your portfolio companies. For more information, reach out to hey@savewithloot.com.
Our member, VAUBAN from Carta, believes that angels are the fuel to innovation and they've created an Atom SPV catered specifically for you! The Atom SPV is meant for angels who are looking to create a syndicate to invest in early stage startups in order to allow for more deals, more ownership, and less fees. The pricing structure for Atom SPV starts at US$2K + 2% of fundraise (up to $200K). Contact gabriel.shin@vauban.io saying you are an EBAN member to join this SPV!

EBAN's partner,  Dealum (a BAN and investor group management software), is offering our members the chance to save time managing your applications, increase investor engagement and co-invest seamlessly with this great offer: As an EBAN member, you can receive 20% off the Dealum regular prices in order to better manage your deal flow and pitching events. Email us at operations@eban.org to activate your offer!
Dealroom.co is a tool that empowers angels and angel networks: It can provide you with information on how to find emerging companies, identify trends, gain visibility, source deals or track deals by other angels, do research and have each of your investments backed up by data. EBAN member Angel Networks, Associations or Individual Angels can save almost 70% and all other members can get 20% off regular pricing. Contact us at operations@eban.org to get started!
Support for your Startups:
AWS Activate is the programme designed to provide startups with the resources needed to quickly scale up. All eligible startups in EBAN members' portfolios can receive AWS Activate packages containing $10,000 in AWS Promotional Credits, AWS Business Support and credits for Self-Paced Labs. To apply, have your startups fill out the this application form and send it to operations@eban.org.
We have partnered with bunch to reduce captable complexity, simplify governance and streamline shareholder management for you as an investor and your startups. As a member of the European Business Angels Network, bunch offers your startups 20% annually on Angel Roll-ups via the code: "EBAN20". Feel free to enter the code directly in the form or during onboarding. Feel free to contact hi@bunch.capital with any questions about the benefit or bunch.
We present ±100 startups/year at our Congress, Summit, Scaleup of the Month: find new investments or support your portfolio companies.