Trans Atlantic Angel Conference Program Final Demo Day Event
Trans Atlantic Angel Conference Program Final Demo Day Event
July 7, 2022 @ 15:00

-

17:00
The "Demo Day" of the Trans Atlantic Angel Conference Training program, where our Investor Cohort will select the final investment.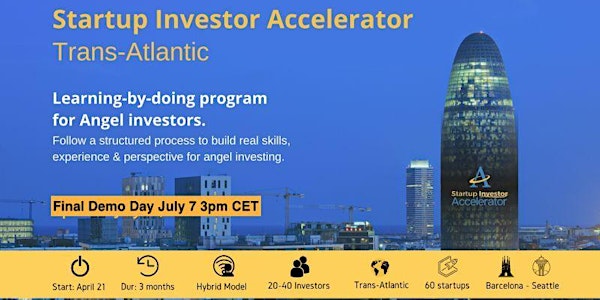 About this event
The Trans Atlantic Angel Conference is a "learning by doing" program where new Angel Investors learn about Angel Investing by doing an Angel Investment.
Across 3 months, 25 Angel Investors together reviewed 64 companies who shared company financials, business strategies, customer references, and operating plans. The programme had individual and group investor discussions, where it evaluated, selected, debated about and did a meaningful due diligence.
This Demo / Pitch Night is the end of the program. It is an exclusive virtual reception during which participating companies have the opportunity to pitch to an audience of entrepreneurs, mentors, investors, and community members.
The 5 finalist companies will present. The Due Diligence teams will outline what they explored in the process of due diligence. And then the Angel investors will select a company to make an investment in. The audience is invited to also vote for an Audience Award.
EBAN Members can contact us for free access to this event
The four finalists are:
Bluana Foods. – https://bluana.me/
Contribution to the future of global food by creating a plant-based product to reduce the consumption of ocean fish. Bluana's mission is to contribute to the future of the Oceans by providing a Tasty and Healthy plant-based alternative to Ocean fish. This VEGAN SASHIMI (Salmon and Tuna) is made of 100% natural and plant-based ingredients, such as edamame beans, tempeh, dried tomatoes, or shitake mushrooms. The sushimi has all the benefits of fish: Omega 3, vitamins B and D, and… no bones.
Votegrity – https://www.votegrity.net/
Informed Voters. Counted as Intended. Putting integrity back in voting. Votegrity's mission is to create a world of informed voters, who have convenient access to the electoral process, and whose ballots are counted as intended. This is done by bringing the ballot box to the voter with end-to-end verification via an online and mobile experience.
EyeKnowAI – https://www.eyeknow.ai/
Keeping the helpless safe from violence using security cameras and AI. Using a unique blend of computer vision, AI, and CCTV footage, EyeKnowAi is able to automatically detect aggression and violence between caregivers and the helpless. This solution can be integrated with off-the-shelf cameras and operate in many markets, including daycare centers, nursing homes and private homes.
Zim Connections – https://www.zimconnections.com/
Connected Everywhere at All Times. ZIM covers travelers' need for a data connection upon arrival. The eSIM is the future of connectivity. Through (digital) eSIM technology, ZIM offers travelers 24/7 data after just one click. They've partnered with local mobile providers and offer numerous data plans through the Zim app. It's a time-saving, low-cost digital solution. No more switching out physical SIM cards, waiting in line at airports, or losing your domestic number while abroad.
Many Angel Groups will be invited to attend. Many will be there. There will be time to network and engage with other attendees. This is an online event.
Organizer of Trans Atlantic Angel Conference Program Final Demo Day Event
Startup Investor Accelerator is a "learning by doing" program for building new Investors in the local startup ecosystem. Teaching startup Investing by doing Investing in startups. It is a program that helps startups get funded and increases the number of active Investors in the community. This has been modeled on the successful program from USA called Seattle Angel Conference, hosted by Mossy Ventures.
The program is based in Barcelona and runs for all Europe. The Acceleration program for Investors runs in rounds. During each round 25 participating investors (new and experienced) together "learning by doing". During each round 60 startups participate, and selected ones get the investment.
To join the program, you can either apply to the learning course as an investor, or apply for investment competition as a startup
(The Startup Investor Accelerator (SIA) is the organizer of the Trans Atlantic Angel Conference. SIA is one of the productions of the MossyVentures Production company.)