Founder Dynamics : The relationships that make or break startups
Founder Dynamics : The relationships that make or break startups
August 29 @ 19:00

-

20:00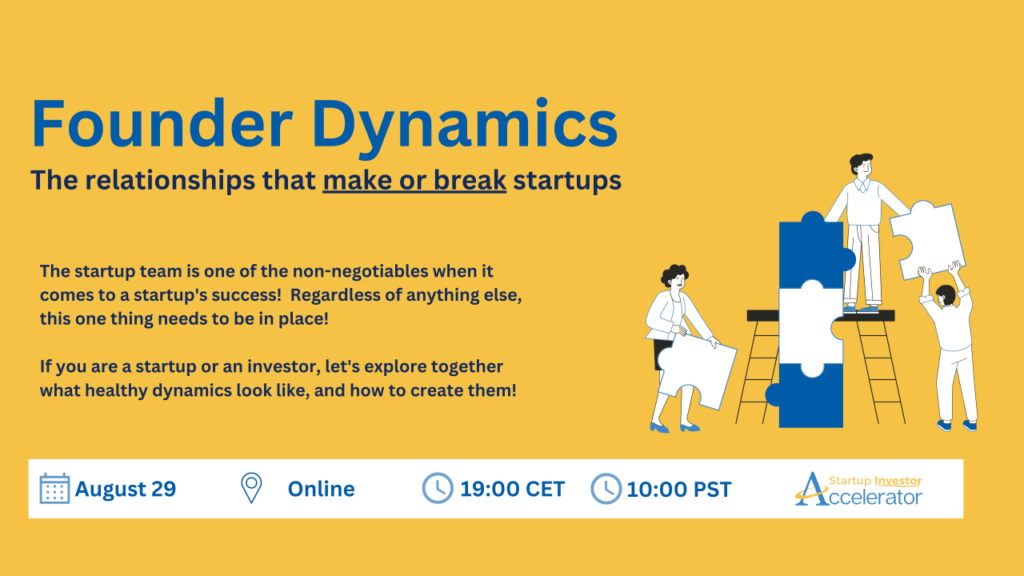 Discover the driving force behind startup triumphs or failures in our insightful event – "Founder Dynamics: The relationships that make or break startups." As an aspiring entrepreneur or seasoned investor, you understand that a solid startup team is the foundation of any successful venture. Join us for an enriching exploration into the world of healthy founder dynamics and learn how to cultivate them within your own startup.
During this event, we will unravel the secrets to building a harmonious and high-performing team. Our expert speakers, comprising experienced founders and investors, will share their real-world experiences and valuable insights. Gain an in-depth understanding of the crucial roles, communication styles, and complementary skill sets that foster a thriving founder ecosystem. Whether you're launching a new startup or seeking to optimize your current team, this event is your gateway to unlocking the potential of your entrepreneurial journey.
Don't miss this unique opportunity to be part of a transformative discussion on creating winning founder dynamics. Join us and shape the future of your startup for long-term success. Secure your spot now and embark on a journey of discovery, collaboration, and growth.
Register Now: https://www.linkedin.com/events/7094441887280881664/about/