Angel Clinic (Online Event for Investors)
Angel Clinic (Online Event for Investors)
Do you want to invest in the next generation of startups and grow the economy? You've come to the right place.
Review: "I would definitely recommend it to first-time startup investors, but also to those who have experience in other asset classes. Investing in startups is completely different and the things to consider differ greatly compared to the stock market or real estate."
Leapfunder Angel Clinic, rated 4,5/5 ⭐, will give you:
A refresh on investment best practices
Access to the startup scene
Opportunities to invest with fellow Angels
The 4 sessions will take place on November 3rd, 10th, 17th and 24th: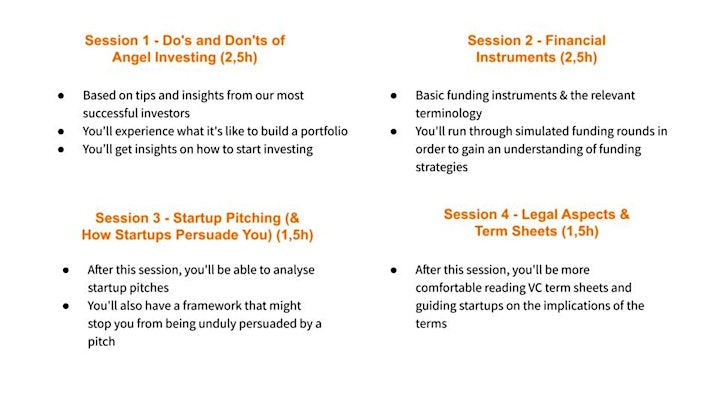 Angel Clinic has proven to be very helpful to beginning startup investors. Nothing speaks louder than the experience of attendees:
"The Angel Clinic increased my legal and financial knowledge and facilitated practice through interactive investment sessions. Talking to startups directly allowed us to put what we had learned into practice."
"The trainer is a great explainer and has a vast angel investing knowledge. Compliments on his approach!"
"It was a super insightful day. I was looking forward to gaining more knowledge on how angel investors operate, screen startups, and decide to invest. The Angel Clinic did just that; by providing us with an informal setting, we were able to listen and learn from the experienced Leapfunder team as well as talk to "veteran" investors during lunch, before diving into the Round Table session in the afternoon."

EBAN members can contact us for 50 euros off the regular price!